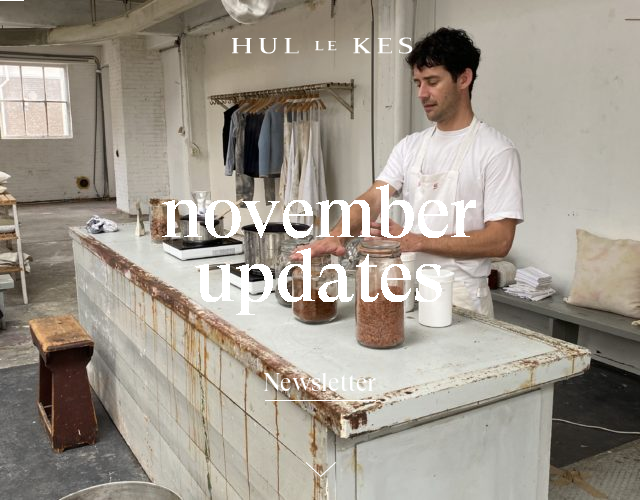 A new month brings new events, Hul le Kes would like to invite you to a new Dyeing Event in Arnhem and a new Monet & Cremer Jacket fitting event in Amsterdam this month. But there is more, because together with Stimuleringsfonds Creatieve Industrie Hul le Kes is looking for young designers who want to join our research project. By next week we will introduce a special collaboration with Museum Arnhem, and not to forget; new pillows are now available online. Find the links below in our newsletter.
November, 7 2022

Join our special event at Lovely Lane in Amsterdam on November 27th and the Dyeing Event on November 19th.

Sunday November 27th in Amsterdam. Are you considering buying an upcycled Monet Jacket, Monet Bodywarmer or Cremer Jacket but not sure which size to order? Then come to our Monet & Cremer Jacket fitting event in Amsterdam. Hul le Kes is invited by Lovely Lane to join them on their lovely boutique boat at Plantage Muidergracht 202 in Amsterdam.

New online

Frank Pillow - Upcycled - Brown 60 x 60 cm
€ 139

Frank Pillow - Upcycled - Brown Stripe 30 x 50 cm
€ 99
November, 8 2022

Are you a young designer with no more than 4 years of experience and would you like to join our upcycling research?

By next week we will inform you about a special collaboration Hul le Kes will launch together with Museum Arnhem. For this collaboration Hul le Kes has been collecting T-Shirts to join the story of the 'Tenminste houdbaar tot.." exhibition which can now be seen at Museum Arnhem.


MOonet Jacket - Upcycled Wool - Light Colors
€ 289

Gift Card
starting from € 10

Monet Trousers - Biological Cotton - Off-white
€ 329

Makoto Bag - Antique Linen - Off-White
€ 119

Monet Jacket - Upcycled - Your Own Blanket
€ 269

Rodin Shirt - Dead-stock Linen - Beige Gray Stripe
€ 319

Monet Jacket - Upcycled Wool - Dark Colors
€ 289

Tickets - Dyeing Events
starting from € 7,50