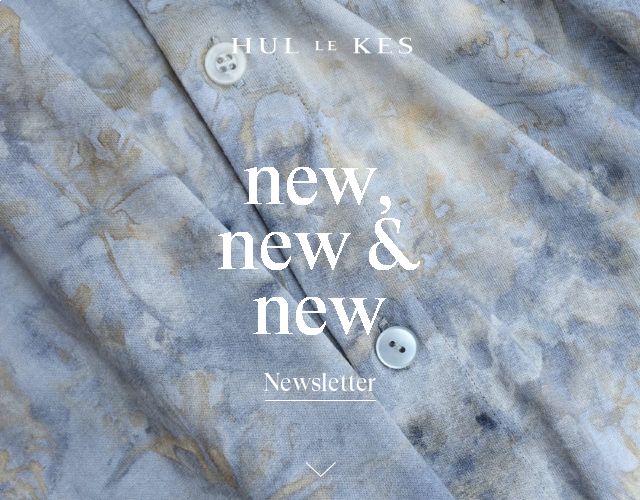 We proudly introduce to you our new website and webshop. It has been a pleasure to work on a website that is meeting our ideas of a new system. Therefore we are now able to introduce new services and improved made-to-order and pre-order products. And it is now possible to see each garment worn by a man or a woman, or have it mixed up when you do not mind about a person's gender. But that's not all; now it is possible to find all kinds of information about Hul le Kes on our site.
To celebrate the new website, we have a special offer for you, please scroll down.
Read about us, about Hul le Kes Privé, meet our team, learn about our circular and sustainable mission, our social enterprise, find our retailers, read about our dyeing process or go to our FAQ. This and much more is now all possible on our new website.
A full new look and way of working was only possible with the help of the graphic design studio Since1416. They also designed this new look for our newsletter. We hope you'll like it as much as we do.

September, 22 2022

We have a new webshop! And that we would like to celebrate with you. Find out about our offer to you here.

| | | |
| --- | --- | --- |
| | | The webshop also offers an upgraded made-to-order system to order your Cremer Jacket or Monet Jacket. Fully new is our pre-ordering option. Here you will find garments that will go into production, we offer you a special pre-ordering discount as you will help stop overproduction and save us time; that we like to reward with a discount. But keep in mind, the discount has its expiration date. |


Services

Boro Service
starting from € 50

Dyeing Service - Clothes
€ 30
September, 22 2022

The S/S '23 Hul le Kes collection is now available for wholesale at the Milan Fashion Week and Paris Fashion Week

| | | |
| --- | --- | --- |
| New garments have been delivered to new selected retailers. Have a look at our points of sale page on our new website for a retailer nearby. | | During the Dutch Budget Day politician Kiki Hagen (D66) wore her Hul le Kes outfit, find out more via our website's news. |


Get a € 30 coupon for a service by ordering:

Monet Jacket - Upcycled Wool - Dark Colors
€ 289

Monet Jacket - Upcycled Wool - Light Colors
€ 289

Kapoor Tunic - Upcycled Cotton - Acacia Brown
€ 289 (pre-order)

Kapoor Tunic - Upcycled Cotton - Flowers Yellow
€ 289 (pre-order)

Cremer Jacket - Upcycled Wool - Light Colors
€ 329

Cremer Jacket - Upcycled Wool - Dark Colors
€ 329