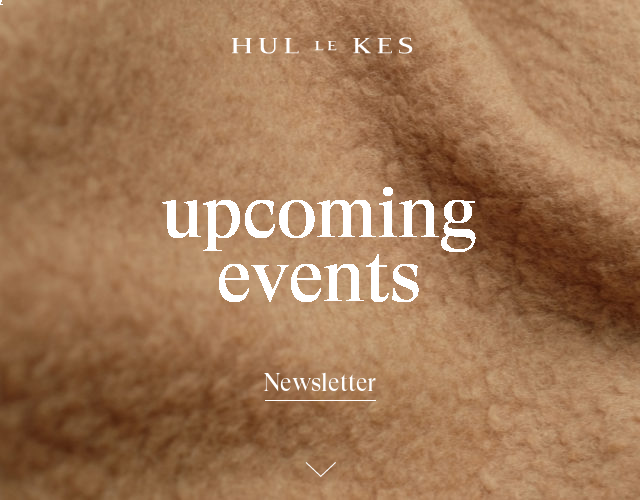 The tactile experience of a garment is an important value of our clothes, one that is difficult to bring to you via our webshop. That is one of the reasons why we like to sell our collection via other retailers, and also one of the reasons why we like to organize special events.
In the upcoming period we have two events for you to attent. Our Monet & Cremer Fitting Day (part of the Fibershed Nederland Route) on Saturday October 22nd between 12.00 and 17.00 in Arnhem. And a new Dyeing Event on Saturday November 19th at 16.00.
Both events take place at Hul le Kes Privé, our private shopping place at Wezenstraat 5, in Arnhem. Read more about our Fitting Day below, and below that you are able to order your Dyeing Event ticket.
sincerely yours,
Sjaak Hullekes, Sebastiaan Kramer & team
October, 14 2022

Saturday October 22nd Hul le Kes takes part of the Fibershed Route with a special Monet & Cremer Jacket fitting day at Hul le Kes Privé.


Monet Bodywarmer - Upcycled Wool - Light Colors
€ 269

Cremer Jacket - Upcycled - Your Own Blanket
€ 309
January, 1 1970

Sjaak Hullekes explains about the Hul le Kes way of natural dyeing on Saturday November 19th. Tickets are € 7,50 for students, € 10,- regular and € 30,- including a dyeing service for your garment.

pre-order

Kapoor Tunic - Upcycled Cotton - Acacia Brown
€ 289 (pre-order discount)

Rodin Shirt - Upcycled Cotton - Flowers Yellow
€ 279 (pre-order discount)

Rodin Shirt - Upcycled Cotton - Madder Pink
€ 279 (pre-order discount)

Kapoor Tunic - Upcycled Cotton - White
€ 289 (pre-order discount)
October, 10 2022

On Saturday October 1st an interview with Sjaak was published in the Belgium newspaper De Standaard

Jackets & Coats

Stravinsky Coat - Antique Linen - White
€ 429

Monet Jacket - Upcycled Wool - Dark Colors
€ 289

Monet Jacket - Upcycled Wool - Light Colors
€ 289

Cremer Jacket - Upcycled Wool - Dark Colors
€ 329